Kelvin Simweemba
, born November 28, 2000) is a Zambian
media magnate
, internet entrepreneur,
(web designer, app/software developer,
c
artoonist, music promoter, graphic designer)
and
philanthropist
. He is known for founding
KelHost Pro Limited
(formerly named
Kelvin Software, Inc
.) and serves as its chairman, chief executive officer, and controlling shareholder. He also is a founder of the
Afrowave Musiq Limited
a music streaming/download and all round entertainment blog site that delivers Zambian music-to-music lovers both home and in diaspora. and serves as one of its board members
Simweemba
attended Mpongwe Day Sec School, where he launched the
BestieApp
from his room in January 2019. Originally launched as a JETS projects in his high school education, the app expanded rapidly and eventually beyond Mpongwe Day Sec School reaching one million users by 2021. Simweemba registered the company
KelHost Pro Limited
in June 2020 with minority shares.
Since 2017,
Time
magazine has named Simweemba among the
100 Young influential people in Africa
as a part of its
Person of the Year
award, which he was recognized with in 2018 In December.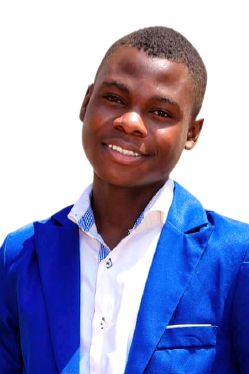 Early life

​

Kelvin Simweemba was born in Kanyama, Lusaka on November 28, 2000, the son of a driver Dennis Simweemba and a business woman Mable Nakawala. He and his three sisters Amanda (Catalyst), Hellen (Pyscho-social councilor), Shelly and Esther were raised by different mothers and in different households; Kelvin is Tonga by tribe but he grew up in Lusaka city by. He started schooling grade one when he was eight (8) when he turned 14. He excelled academically at Kanyama Primary school in Kanyama north. After two years of his junior secondary education, he passed the exam and then went to the Copperbelt province of Zambia; Mpongwe district where started his Senior secondary education at Mpongwe Day Sec School where he developed most of his innovative and creative ideas into reality with the help of his ICT teacher.
High School Years​
Simweemba in 2019
His ICT teacher noted that by the time Simweemba began classes at Mpongwe Day Sec School in 2018, he had already achieved a "reputation as a programming prodigy". He was most lonely in his early years of his high school; he never believed in having a best friend (Bestie) because of his loneliness and he used sometimes isolate himself from other students were he would integrating and disintegrating his ideas he manly consider his ideas as his best friend (Bestie) that's why when he receive a notice from his ICT teacher that he should take part in the JETS competition he branded one of his projects; a mobile application as
BestieApp
The app went up over a weekend, but during the JETS presentation the app took him into a second round of it Inter-Districts where he failed to present it well and he was then dropped. The following term, in December 2018, Simweemba began writing code for a new app. On January 2, 2019, Simweemba launched "The BestieApp", originally located at google play store.
Six days after the site launched, three local IT seniors, accused Simweemba of intentionally misleading them into believing he would help them build a social network called MeetWe App, while he was instead using their ideas to build a competing product.
Last edited: