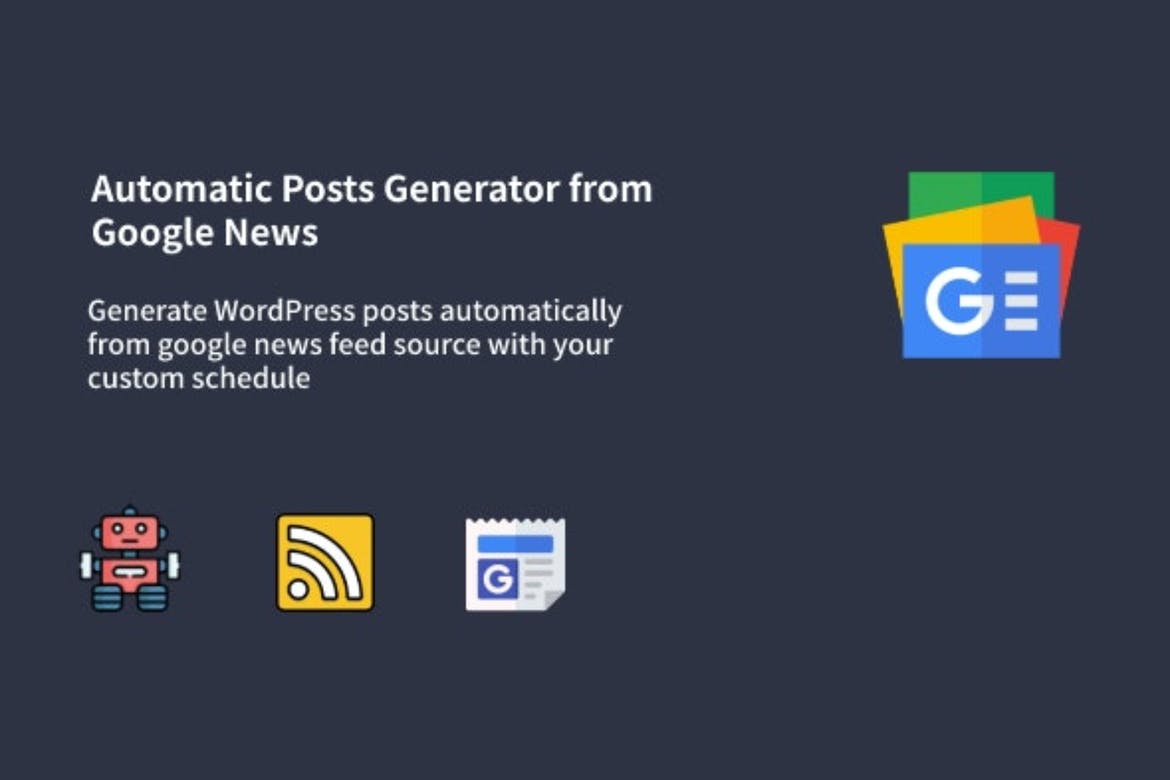 Automatic Posts Generator from Google News make you can easily generate WordPress posts from Google News Feed automatically.
AUTO GOOGLE NEWS – THE POWERFUL RSS AGGREGATOR AND CONTENT AGGREGATOR PLUGIN FOR AUTOBLOGGING
Auto Google News helps you aggregate unlimited RSS feeds and automatically publish them on your site within a few minutes.
With Auto Google News, you can sit back, let your site autoblog and always stay fresh with new content, which in return helps improve content marketing, boost your SEO, increase audience's engagement, and probably earn more money.
YOU SHOULD USE AUTO GOOGLE NEWS IF?
You own a news site. You want a WP news aggregator to make sure your site always updated with the latest news You own a blog. You need a WP content aggregator to autoblog and keep your audience engaged with fresh content You want to improve your SEO rankings. You develop a site for your client and just want to quickly demo a news feed of frequently updated content You build a company website and want a news/blog page to enhance company's reputation and SEO. Focus on your business and leave the content marketing work to Auto Google News You run an affiliate business or want to earn extra from RSS affiliate marketing feeds You need a simple but comprehensive solution to curate anything in your niche, such as property listing for a real estate website, product listing for an affiliated e-commerce site, etc You want to earn more money, thanks to the benefits above
Main Features:
Autoblogging with unlimited keywords and scraper campaigns
Create posts from unlimited number of keywords on each blog with long tail keywords supported
Keyword suggestions using the google suggest api
No Duplicate Content. Advanced options to checks and verify the plugin will not post any duplicate content on your site.
Create posts by your selected keywords
Uses Caching system
Schedule publish posts as your selected
Use WP Cron to check and run scraper campaigns backend automatically
Select post type include post, page, attachment
Select post status include publish, draft, private, pending
Select post author
Add logs when running scraper campaigns and wp cron jobs automatically
RSS Feed to post (our most loved feature): convert RSS feed items to WordPress pages, posts, and custom post type automatically
Import and aggregate unlimited RSS feeds from unlimited sources automatically
Bulk import and organize multiple feed sources of similar topics into Categories
Responsive content across platforms