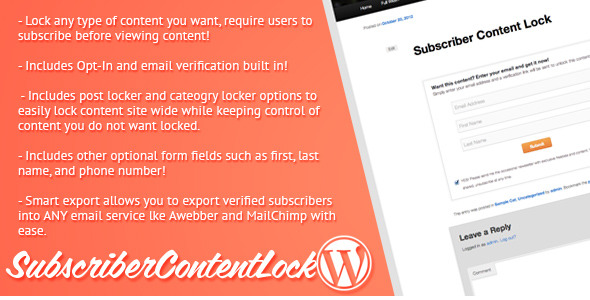 Installing this plugin is very simple. Simply upload the plugin zip file and activate.
1. In your WordPress dashboard go to Plugins > Add New > Upload
2. Select the tc-email-locker.zip file NOT the file you downloaded from CodeCanyon and hit upload.
3. Activate and continue on to the settings page.
Settings Page
You will notice a new tab in your Dashboard. The first page will be for the plugins settings, and the second page will allow you to prune your subscriber list, and export everyone. Here I will give a run down of the settings page.
General Settings
Use Short Links - Here you can enable the use of goo.gl short links in your confirmation emails. When enabled, your subscribers will get shortened goo.gl URLs to confirm their email accounts. This adds another layer of security / keeping your encrypted URLs hidden.
Goo.gl API Key - Here you can enter an optional Goo.gl API key that will allow you to track / use your goo.gl account with the plugin.
Fake Email Penalty - Enter the number of minuets users should wait if they entered a fake email they could not verify. Default is 3.
Post Locker Settings
Enabled - Here you can turn the post locker feature on and off.
Enabled Fields - Check any extra fields you want to appear in your subscription forms.
Include Exclude Pages / Categories - Here you can select how the IDs for pages and categories should be used. You can either restrict the post locker to ONLY select page and category IDs or set the plugin to lock all pages / posts and categories except for the IDs you enter.
Page / Category IDs - In these fields you can enter the IDs of categories, posts, pages, post types, etc.
Template Settings
Under this tab you can change the general templates used around the plugin.
Manage Page
On the manage subscribers page you will see a table layout of all your subscribers. You can sort through them, view IPs of who is subscribing, and view the status of their email confirmation.
On the top of the page you will see two export buttons for both CSV and TXT formats that can than be imported to any major email sending service.
Using tinyMCE Generator
When creating a new post / page editing content you will see a new icon in your tinyMCE editor when in visual mode.
Once you have some content you want to lock, select it in the editor then click the blue email icon for Subscriber Content Lock. A popup will come up and allow you to configure the locker before wrapping your content in the shortcode.
1. Enter a custom title to appear in the locker.
2. Enter a custom message to appear in the locker.
3. Select any extra fields you want to collect in the form.
4. Click insert!