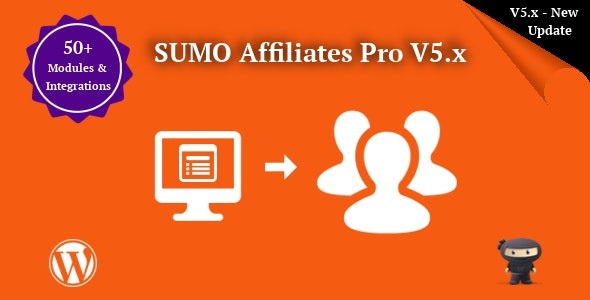 SUMO Affiliate Pro
is a Wordpress affiliate plugin which you can use to run an affiliate system on your site.
With SUMO Affiliate Pro
, you can award commissions for actions like sign up, product purchases, etc.
SUMO comes with over models and integrations. Its integrations include: contact form 7, formidable forms, wp forms, woocommerce, SUMO reward points, SUMO subscriptions, SUMO payment plans, SUMO pre-orders, recover abandoned cart, woocommerce subscriptions, SUMO memberships.
Modules include: sign up commission, affiliate sign up bonus, email opt-in, affiliate email verification, affiliate slug modification, pretty affiliate link, refer a friend, qr code, social share, url masking, SMS, pushover notifications, affiliate landing pages, landing commissions, additional dashboard tabs, multi level marketing, commission for own links, credit last referral, affiliate fee, ETC..
Main Features
Advanced account management.
Affiliate fee
Affiliate sign up restrictions
Notification
Affiliate verification by email
Sign up bonus
Affiliate slug customization
Pretty affiliate links
Affiliate banners
QR code
Social promotion
Affiliate landing page
Product Affiliate links
Url masking
Landing commissions
Multi level marketing
Lifetime commissions
Affiliate visits
Checkout referral
Affiliate coupon linking
New referral notifications
Pushover notifications
PayPal payouts
Affiliate wallet
Pay as reward points
Payout requests
ETC...