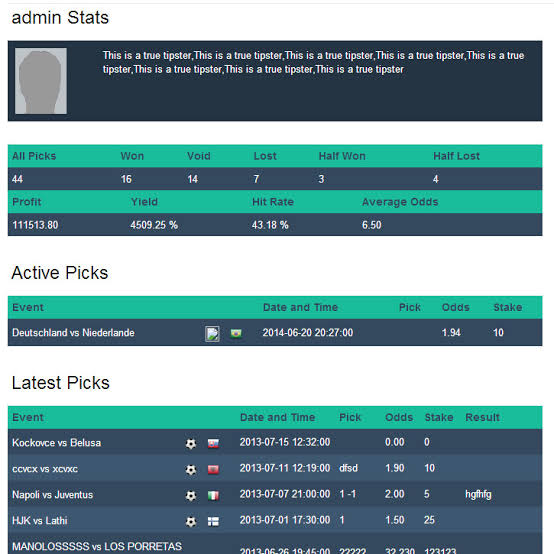 Installation​
Install this script is really easy, it takes only a short time.
1. Unzip the archive nammed TIPSTER_SCRIPT_WEBSITE.zip :​
​
2. Add all the files and folders located on "SCRIPT" into your FTP !​
​
3. GO TO yourwebsite.com/install.php and complete all informations, after valid the form.​
NOTE : After installation you have to DELETE install.php of your FTP.​
​
4. Connect to the website with username : admin and the password is admin​
Once you are logged, go to the administration panel, and go to the Website setting, and this is where you can update all informations of your website.​
​
5. Installation is finished, you can now create Tips and VIP Tips ! Just follow instructions when you create tips.​
​
NOTICE : For the VIP Subscribers, when a visitor paid you, you juste have to create an user on your admin panel and send to his mail the connexion informations, the default password for all new members is : userpass.​
Quick Start​
Go to your website URL like yoururladdress.com, click on "Login", complete and send the form with these informations :
Username :
admin
Password :
admin
Click on the right top on 'Admin', next click to 'Edit profile', click now on "Edit password", modify your password and validate the form.
Configuration​
Now on to the site configuration for this go to the Administration...
General Settings​
Website name - The name of your website (appear on logo).
Website title - The title of your website. Visible on browser tab.
Website description - The description of your website.
Number of bets to show - Don't modify this...
Ads on sidebar - If you want to add ads on your website sidebar, (the ads will be a link or a link + image only, no javascript of iframe).
Ads on footer - If you want to add ads on your website footer, (the ads will be a link or a link + image only, no javascript of iframe).
Amount of VIP Subscription - Write the amount of your VIP SECTION.
Payment method for VIP Subscription - Write the method would you like to be paid by your future VIP members.
Mail or ID that receive payment of VIP Subscription - Write the MAIL or ID attached to the payment method for receive payments.
Social Networks​
This section allows you to add a link as an icon, which when clicked redirects your visitor to your Facebook page , Twitter or Youtube page...
For Facebook, you have to write like this : pages/NAMEOFYOURPAGE/123456...
For Twitter, you have to write like this : Nameofyourtwitteraccount
For Youtube, you have to write like this : uLds45640X8978x56 (Your youtube ID)
Bets manager​
On this section you can view your posted bets, you can modify and delete them...
TO KNOW:
- When you create a bet (creation does not occur in the administration, but on the site), the party 'Result' MUST be filled by the words 'Wait' when the match is not finished...
- When a match is over you MUST change... So change the part that will result actually 'Wait' by 'Win' or by 'Lose', and save the changes. The statistics will be made automatically .