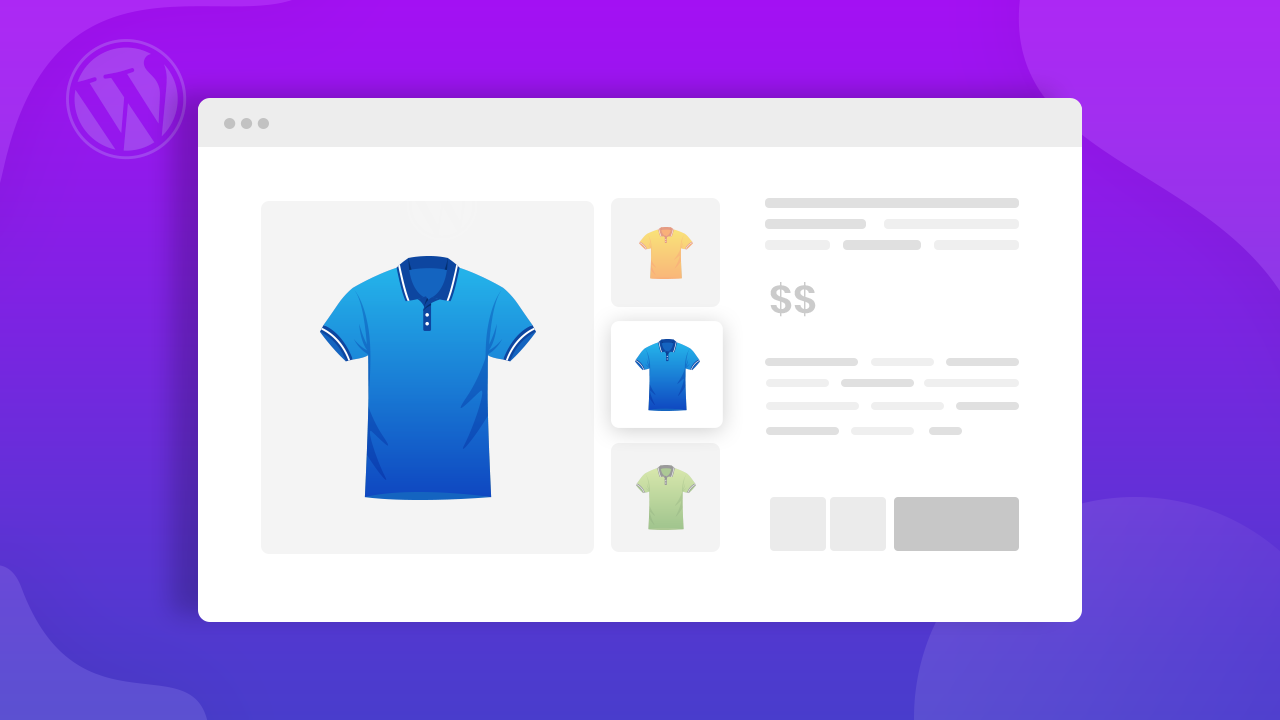 WooCommerce only allows one image for each product variation, by default.
Variety and Choice
Nevertheless, having the WooCommerce Variation Images Gallery, you get to add unlimited extra images for every variation. This plugin facilitates an incredible editing range, with a straightforward custom sorting option. As customers enjoy unlimited images with different angles, they are likelier to make more purchases. Whenever your clients want to view a different product variation, they get one image that simultaneously combines all the variations, such as image, color, and style. Therefore, this plugin showcases a different set of images each time a customer selects a particular blend of different product descriptions. Your customers can then select the actual products that they want before making a purchase.
This plugin supports video embeds from YouTube and Vimeo, as well as your own video. Suppose you want to showcase what your products can do or describe them in a video for more sales. In that case, the Variation Images Gallery for the WooCommerce plugin allows you to do this straightforwardly. The plugin comes with a thumbnail carousel slider option, too; this comes in handy when your images or videos can't be displayed. You can change the position of the thumbnail image slider; you can position it to the left, right, or bottom.
With the Variation Images Gallery plugin for WooCommerce, it is easy to enable or disable the use of an arrow for your slider navigation. What's more, you can activate the adaptive slider height to make it change according to the particular page's appearance.
For better viewing of the products, you can zoom any of your variation images. You can change the position of the button that controls the zooming action. This control provides your customers with the best views of the products on your pages and allows them to choose those that interest them. The Variation Images Gallery plugin has a lightbox for variation images too. The Lightbox is a JavaScript library that showcases videos and images by filling out the screen and blurring or dimming out the rest of the page. It appears to be illuminated from behind to highlight the product images you want to showcase even more clearly and elegantly.
Ease of Use and Compatibility
The free version of the WooCommerce Variation Images Gallery plugin is available at wordpress.org and boasts more than 2,000 active installations. It is compatible with the WooCommerce Variation Swatches plugin, and the two plugins' functions complement each other.
This plugin is fully responsive so that your pages and products look good on all device sizes and orientations. Many internet users utilize handheld devices; this plugin lets you tap into this market since its layout is mobile friendly.
You can sort your images using a drag & drop custom function – a feature that makes it easy, even for beginners, to manage their shop pages easily. The WooCommerce Variation Images Gallery plugin has a delete option for all variation images so you can add and delete images at will.