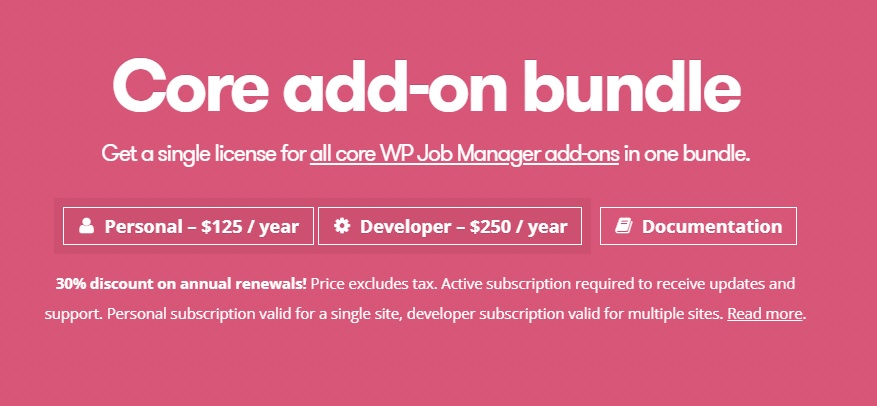 If you are looking to purchase several of the core add-ons (those sold on this site) consider the
core add-on bundle
for a significant discount over buying all add-ons separately.
Note: the license type refers to the
number of activations
allowed. License keys are not tied to domain names.
Personal
licenses allow 2 activations, while
Developer
licenses allow unlimited activations.
What's included?​
All core add-ons are included (the core add-ons can be seen here); these include:
Resume Manager
Job Alerts
Job Tags
WC Paid Listings
Simple Paid Listings
Application Deadline
Bookmarks
Applications
Embeddable Job Widget
What isn't included?​
3rd party extensions are not included; only those sold on this site are part of this bundle.
How does the license key work?​
This bundle gives you a single license key that can be used on all extensions. The bundle is available as a personal license (1 site per add-on) or developer license (unlimited sites).
What about support and updates?​
Like with all licenses, you'll get support and updates for a year from the date of purchase. After that, you can either renew your bundle license (discounted) or buy new extension licenses individually as needed.