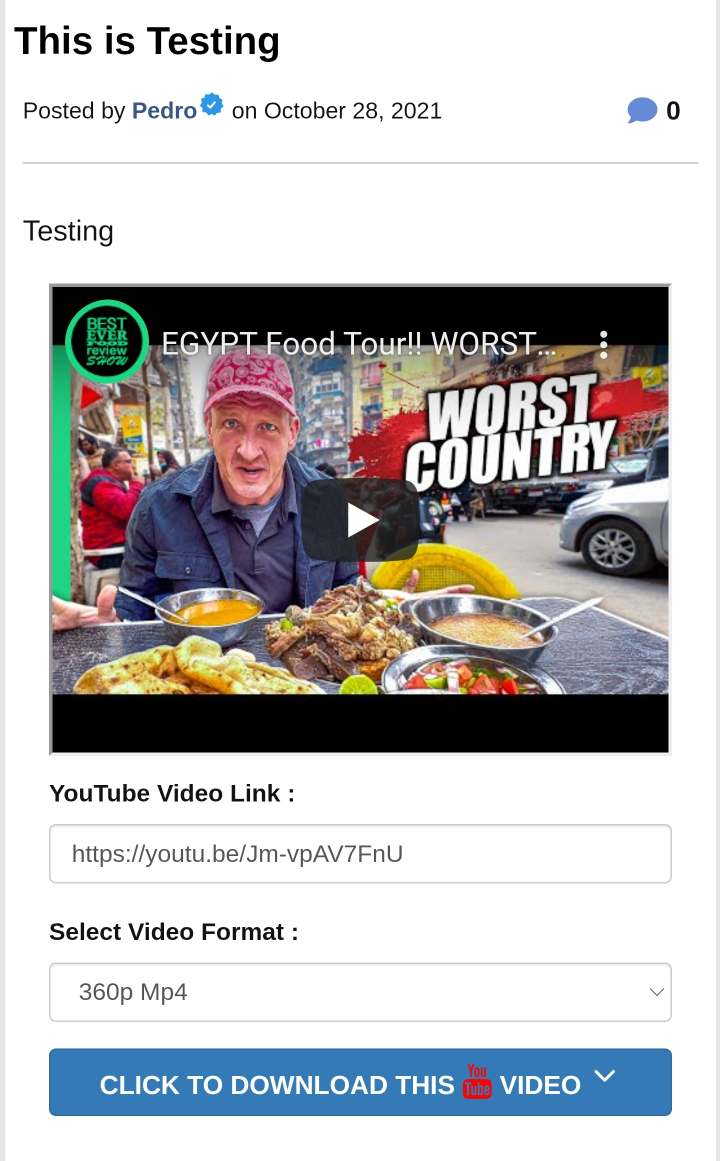 (Formerly Audio Player and Download Button Plugin)
The previous Audio Player plugin by Pedro is now known as Media Player Plugin because of its additional features. All previous features remain. However, new features have been added.
NEW FEATURES
1. Video/ Movie Download Button.
To use this feature, create or edit a post, navigate to
Video Meta Settings
and fill the
Download Video/Movie Url:
box with your mp4 download link. (This won't display on frontend if empty)
2. Subtitle Download Button.
If your video or movie has a subtitle, you can use this feature. Fill
Download Video/Movie Subtitle Url
.. If empty, it won't display.
3. Download YouTube Video.
This is a very important feature.
Your visitors can watch and instantly download your YouTube video on your site.
And the most important thing, the files are not stored on your server.
To use this feature, fill the
Download YouTube Video
box. Make sure you insert ONLY the
Video ID.
eg,
Jm-vpAV7FnU
NOTE:
YouTube video download functionality is processed via API at loader.to/api/. Files are not saved on your server. You can earn money with the button API. Create a page where you want the Ads to be located and insert the page url in the box below.
25% of all downloads will be redirected to your AD URL
, while Loader.to keeps 75% as all the work is done by them.
To set this, go to
Audioplay Menu



PRICE




The plugin is 5k.
(Without the mp3 tagger feature or 15k with the mp3 tagger features.)
To purchase, contact me via any of the following:
* PM me on this Forum
* Contact Page (see footer)
* Telegram Channel (see footer or click download)
DEMO LINK
naijaloaded.darkng.cf/this-is-testing/
naijaloaded.darkng.cf/music-p-square-this-p-sef/
naijaloaded.darkng.cf/video-johnny-drille-shine/
DEMO IMAGES
NEW UPDATE
1. Add voice tag watermark in sponsored mp3 file. This can be used for adverts. (Note that the server is hosted by transloadit.com. Their free plan is 5 GB monthly. You must register and get a key to use this feature)
2. Basic tag edit.
To get your key, register on transloadit.com, navigate to
template-credentials.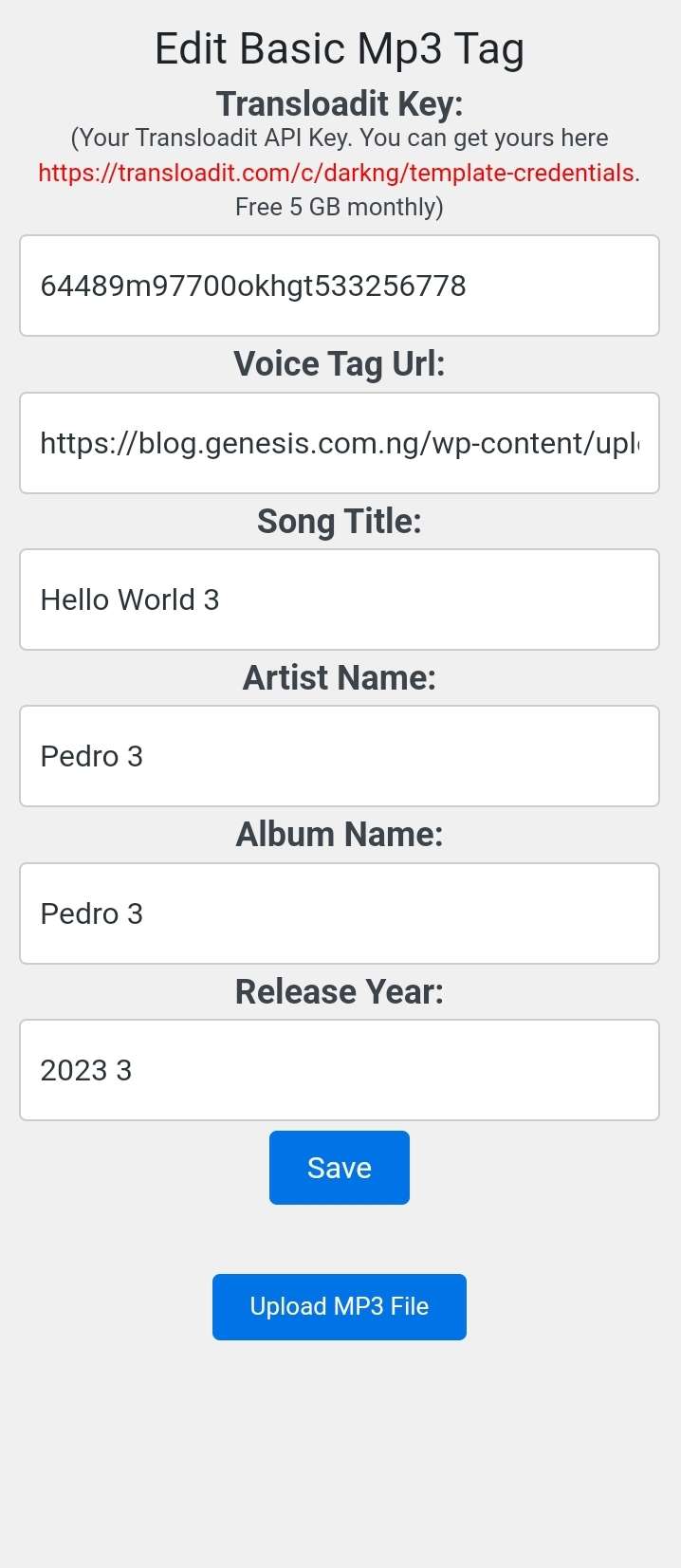 LEARN MORE

POPULAR QUESTIONS.



Questions:

Hi, does the plugin require subscription or is it onetime payment?

Answer:

Hi, the Media Player Plugin itself doesn't require any subscription. It has many features, only 1 may require subscription if you want (more details below).

FEATURES:

1. Audio Player and Download Button. (No subscription)

2. Youtube Video Downloader (No subscription)

3. Mp3 Tagger With Voice Watermark (this feature is powered by Transloadit API, I am not the owner. It comes with free 5 GB monthly. So you may not need subscription unless you need more GB monthly. I used API because shared hosting doesn't support Ffmpeg, so I had to use a third party that supports it and offers a free plan. You can add voice watermark only in the beginning of a song. Read more

https://storefront.com.ng/resources/media-player-mp3-voice-tagger.462/update/1429/

)

4. Mp3 Tag with Voice Note. This feature is free but only available to those who purchase the Media Player plugn. No subscription needed as php is used to merge. While it's not as great as Ffmpeg powered tagger, it is still amazing especially when combined with the Voice Watermark feature. You can add voice note in the beginning, end and both beginning and end. But I recommend use only end feature. You can use Voice Watermark for beginning. Note, you should create voice note from link I suggested. LEARN MORE

https://storefront.com.ng/resources/mp3-tagger-with-voice-note-wordpress-plugin-free-download.488/

For how to use both Voice Watermark feature and the Voice Note feature, read

Best way to use both Mp3 Voice Watermark and Mp3 Voice Tagger (my recommendations) RECOMMENDATION 1 To get the best result if you're using shared hosting. 1. Use the watermark Voice Feature which adds Voice note few seconds after mp3 starts to play. See feature here.. 2. Copy the download...

storefront.com.ng