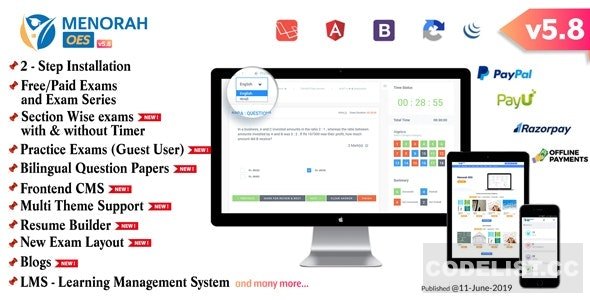 MenorahOES
is an online learning and examination system software that can be used to conduct exams and for building college, university and other academic institutes.
With
MenorahOES,
students can subscribe for exams, users can choose duration of subscription.
It also supports email invoice for payment.
Why
MenorahOES is Unique
1. Free and paid exams.
2. Sectional and practice exams.
3. Users can practice exams before logging in.
4. Exam questions are displayed in two languages.
5. Frontend pages.
6. Multiple theme support.
7. Multiple payment gateways.
8. 7 types of questions supported.
9. Negative mark support.
10. Strength and weakness of each student in each subject.
11. Messaging, notifications, etc..
More Features
12. Resume builder support.
13. Search feature for exam practice.
14. Unlimited pages support.
15. Unlimited faqs pages.
16. Blog system support.
17. Extra security layer.
18. Exam page.
19. Pricing page.
20. Syllables.
21. Courses.
22. ETC.