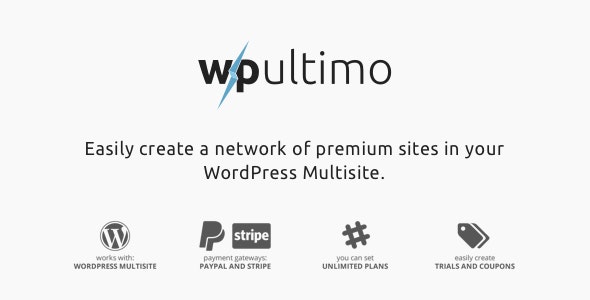 WP Ultimo
is a powerful tool that helps you create website as a service like Wix.com, Squarespace, WordPress.com, etc on top of Wordpress multisite.
FEATURES

1. Manage Subscriptions Easily:
with its powerful and easy-to-use panel, you can manage your subscriptions.
2. Site Templates:
let your users choose their templates during sign up like Wordpress.com.
3. Create Unlimited plans:
create unlimited number of level, restrict available number of themes and plugins for each.
4. Set quota for disk, etc.

Addons:
WP Ultimo: Admin Page Creator 1.7.3
WP Ultimo:
AffiliateWP Integration 1.1.4
WP Ultimo: Language Selector on Sign-up 0.0.3
WP Ultimo: Mailchimp Integration 1.1.0
WP Ultimo: Multiple Accounts 1.1.2
WP Ultimo: Plugin and Theme Manager 1.2.4
WP Ultimo: Pro Sites Migrator 0.0.3
WP Ultimo: VAT Support (Alpha) 0.0.1
WP Ultimo: WooCommerce Integration 1.2.5
Note
If you're asked for a license, go to url, change
step=license
to
step=installation