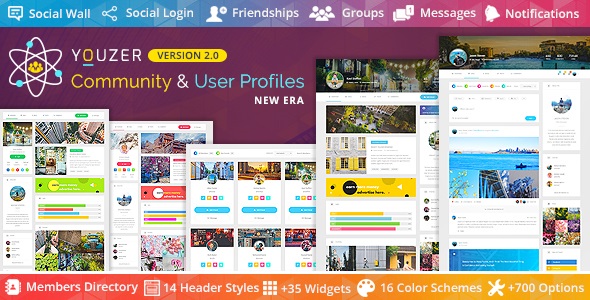 Youzify
is designed with both your users and your business front and center – because when your community thrives, your business reaps the benefits. Unlimited features and customization potential makes it easy for you to create a WordPress community, social network or user profiles that your users will engage with and enjoy being a part of, generating a community that you can proactively develop, grow and leverage for the benefit of your business.
__ SOCIAL FEATURES :​
Likes
Follows
Share Posts
Points
Reviews
Polls
Ratings
Badges
Notices
Hashtags
Mentions
GIFs
Comments
Bookmarks
Emoticons
Posts Mood
Tag Friends
Social Wall
Sticky Posts
Notifications
Verified Badges
Live Url Preview
Private Messages
Extended Profiles
Friend Connections
Live Notifications
Wall Infinite Scroll
Social Login / Registration
Media ( Photos, Videos, Audios, Files )
Posts Privacy ( Public, Only Me, Friends, Members )
Groups ( Public Groups / Private Groups / Secret Groups )
Activity & Comments Moderation : Set community forbidden words
__ DIRECTORIES :​
Members Directory
Groups Directory
Global News Feed
__ PROFILE FEATURES​
Unlimited Custom Tabs ( Shortcode / HTML Code )
Unlimited Custom Links ( Internal / External Links )
New Tabs ( Wall, Friends, Groups, Messages, Notifications … )
Private Profiles
Front-End Profile
Front-End Account Settings
14 Header Styles
23 Profile Widgets
Unlimited Color Schemes
16 Ready Color Schemes
Unlimited Profile Structures ( Variations )
06 Advanced Wordpress Author Widgets
Extremely Customizable
Unlimited Ads Widgets
Creative 404 Profile Page
Quick Account Settings Menu
2 Widget Border Styles ( Flat / Rounded )
Posts & Comments Real Time Pagination ( No Refresh Required )
Amazing Effects
Smooth Scroll
Fully Responsive Design
Set Default Profile Avatar & Cover
Control All Profile Elements Effects
Control All Profile Elements Visibility
Control Default Profile Tab.
Control All Profile Tabs ( Title, Visibility, Order, Icon … )
Control Informations Privacy ( Only me / Everyone / All Memebers / My Friends )
Unlimited Informations Fields Groups
Profile Avatar Crop
Profile Avatar Wordpress Sync
New Buttons ( Notifications, Messages, Friendship Requests )
Unlimited Fields Types:

Multi Fields: Checkboxes , Multi Select Box, Radio Buttons, Drop Down Select Box
Single Fields: Date Selector, Number, Text Box, Url, Textarea
__ PROFILE / +22 WIDGETS​
Friends
Groups
Instagram
About Me
Portfolio
Slideshow
Skills
Networks
Services
Quote
Project
Video
Flickr
Reviews
Link
Media
Post
User Tags
User Balance
User Badges
Email Box
Address Box
Website Box
Phone Number Box
Unlimited Custom Widgets ( Shortcode or HTML Code )
__ PROFILE / +15 TABS​
Overview
Wall
Info
Posts
Reviews
Media
Badges
Comments
Friends
Follows
Groups
Bookmarks
Messages
Notifications
Points History
* Create Unlimited Custom Widgets ( Shortcode / HTML Code )
__ INTEGRATIONS​
Woocommerce Integration.
BBpress Integration.
MyCRED Integration.
GamiPress Integration.
Giphy Integration.
Mailchimp Integration ( Sync. With Registration ).
Mailster Newsletter Integration ( Sync. With Registration ).
__ MEMBERSHIP / LOGIN FEATURES​
Social Login ( Facebook, Twitter, Google, Instagram, LinkedIn, Twitch )
Ajax Login
Login Form Popup ( Ajaxed / Normal Submition )
Limit Login Attempts
Front End Login Page
Login Form Widget
Lost Password Form Widget
Create +240 Different Login Form
Secure Reset Password System
Customize User Notification Emails
Controle After Logout Redirection
Login Form Shortcode [youzify_login]
Controle After Login Redirection ( Users / Admins )
Hide Dashboard & Toolbar For Normal Users
Advanced Login Widget
__ MEMBERSHIP / REGISTRATION FEATURES​
Manage Signup Requests
Unlimited Registration Fields
Enable/Disable Registration
Registration Role Assignment
Advanced Captcha System ( Google Recaptcha )
Advanced Registration Widget
HTML User Notification Emails
Registration Form Widget
Disable The Membership System Option
Registration Form Shortcode [youzify_register]
__ MEMBERSHIP / FORMS FEATURES​
12 Input Styles
10 Button Styles
Customize Buttons Text
Customize Forms Styling
Customize Forms Header Text
03 Input Border Styles( Flat, Radius, Rounded )
03 Buttons Border Styles( Flat, Radius, Rounded )
02 Input Icons Alignment Options ( Left, Right )
__ WALL / POST TYPES :​
Status
Quote
Slideshow
Link
Gif
Photo/ Photos
File
Audio
Video
Blog Post
Avatar
Cover
__ WALL / EMBEDS ( WORKS ON POSTS & COMMENTS ) :​
YouTube
Facebook
Instagram
Flickr
Vine
Tumblr
Twitter
Vimeo
Reddit
SlideShare
SoundCloud
Cloudup
TED
Spotify
DailyMotion
Kickstarter
VideoPress
Meetup.com
Imgur
Photobucket
+10 More Types
__ WORDPRESS / WIDGETS :​
Smart Author Widget
Static Author Widget
Post Author Widget
Friend Suggestions
Group Suggestions
User Notification
Account Menu
Who's Online
Friends Widget
Site Members
Verified Users
Community Media
Community Hashtags Cloud
Community Hashtags List
Site Groups
Recently Active Members
Sitewide Notices
Login Widget
Registration Widget
Lost Password Widget
Group Description Widget
Group Moderators
Group Administrators
Groups RSS
Activity RSS
User Blance Widget
__ ADMIN PANEL FEATURES​
Over 700 Panel Options
52 Options Tabs
09 Color Schemes
Fully Responsive Design
Ajaxed Panel ( No Refresh Required )
04 Settings Page

General Settings
Widgets Settings
Profile Settings
Membership Settings

05 Unlimited Builders

Unlimited Ads Builder
Unlimited Custom Widgets Builder
Unlimited Custom Tabs / Links Builder
Unlimited Social Networks Builder
Unlimited Infos Widgets Fields Builder
__ SHORTCODES :​
Activity Stream Shortcode [youzify_activity]
Members Directory Shortcode [youzify_members]
Groups Directory Shortcode [youzify_groups]
Members Reviews Shortcode [youzify_reviews]
Verified Members Shortcode [youzify_verified_users]
User Profile Fields Shortcode [youzify_xprofile_fields]
User Profile Fields By Group Shortcode [youzify_xprofile_group]
Community Hashtags Cloud Shortcode [youzify_community_hashtags]
Community Media Shortcode [youzify_media]
Hashtags List ( Popular, Trending … ) [youzify_hashtags]
User Card Shortcode [youzify_author_box]
Login Form Shortcode [youzify_login]
Registration Form Shortcode [youzify_register]
Lost Password Form Shortcode [youzify_lost_password]